Do you like your beer a little bit different?  Me too!  I don't go near the Carlton Draught that you see everywhere – I'd rather have a pot of something with a little bit of character.
The beer at Two Birds does that job nicely, with a few of their brews boasting some rather interesting ingredients.  Rhubarb anyone?
You might not find some of these more unusual brews on the shelf at Dan Murphy's but they don't mind experimenting with ingredients and small batches can be found on sale at the brewery in Spotswood as well as at beer festivals across the country.
Their Taco (which you will find at Dan's!) is a great tasting beer, with ingredients including corn, coriander leaf and fresh lime peel. Trust me, you'll love it!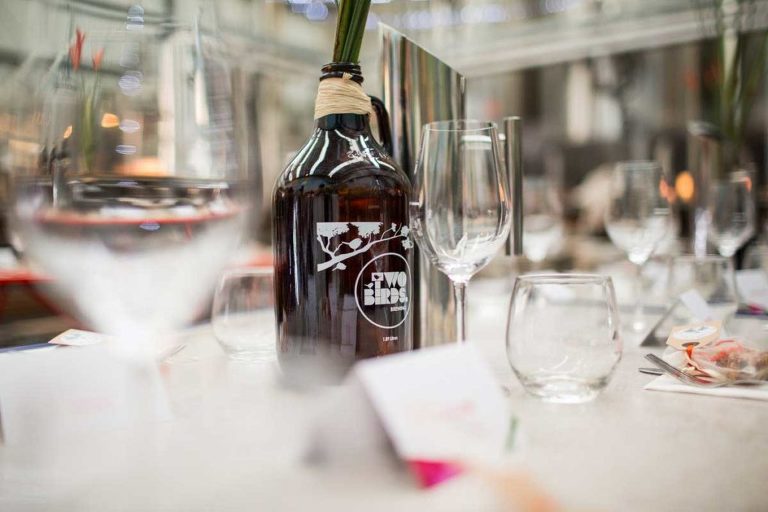 Brewers Jayne Lewis and Danielle Allen have a solid background in brewing and wine making, have worked for some of the big names in Australian craft brewing including Mountain Goat & Little Creatures. They also hold the title of being the owners of Australia's first female owned brewery.
Opening the doors to Two Birds Brewing in Spotswood in 2014, three years after they first launched their beer to the market, the venue has become a firm favourite with locals and not-so-locals alike. Handily it's a five minute walk to a train station so you can leave the car at home!
The room where the action happens is affectionately known as The Nest and is split in two, with half used for brewing and bottling and the other used for reclining, relaxing and imbibing!  The Nest is the part of the brewery that is available to hire for functions, events and weddings.
Benefitting from plenty of natural light, the space has a functional yet comfortable feel with modern furniture and an epic wall mural featuring the Westgate Bridge at sunset.
The last wedding ceremony I shot at Two Birds was held in front of the mural with a gorgeous flower arch framing the couple.  The signing table was a huge slab of wood balanced on two beer kegs, and most guests had a glass of beer in their hand.  The celebrations can get started even before the ceremony gets going!
With plenty of space for a ceremony, dancing and even a sit down dinner, Two Birds is a great option as a wedding venue and a really nice alternative to the 'usual' and often quite average wedding venues that are found around Melbourne.  You also know that the beer is going to be fresh too!
PSST! Don't tell them I told you, but compared to other venues that host weddings, their prices for hiring out The Nest beer hall are WAY too low!  Take advantage of them while you can!