The great thing about a weekday wedding ceremony is that it's generally pretty relaxed. This one was no different.
Combined with the fact that Lauren & Josh's wedding was planned just a month in advance seemed to make their's even more relaxed still!
With an early afternoon ceremony at the Melbourne registry I wandered some of Melbourne's back alleys and laneways with the couple on route to the reception at the Sweatshop Bar beneath Seamstress bar and restaurant on Lonsdale Street.
I don't get the chance just to amble through Melbourne as much as I like, due to kids, work, and life in general distracting me, so it's always enjoyable to do so when I'm out taking photos. I love it when I happen to stumble across a new doorway or alley that I'd never noticed previously. These unassuming discoveries all go into my ideas 'pocket' for use at a later date.
I'd been to another part of this alley previously for some wedding photos (another slow amble with another relaxed couple, funnily enough) so knew the spot I was looking for. It's something about the number of bricks and the slightly too high position of the sign on the wall that appeals to me for some reason.
It also looks good in colour, but it's black and white kind of day today so thats what you're getting!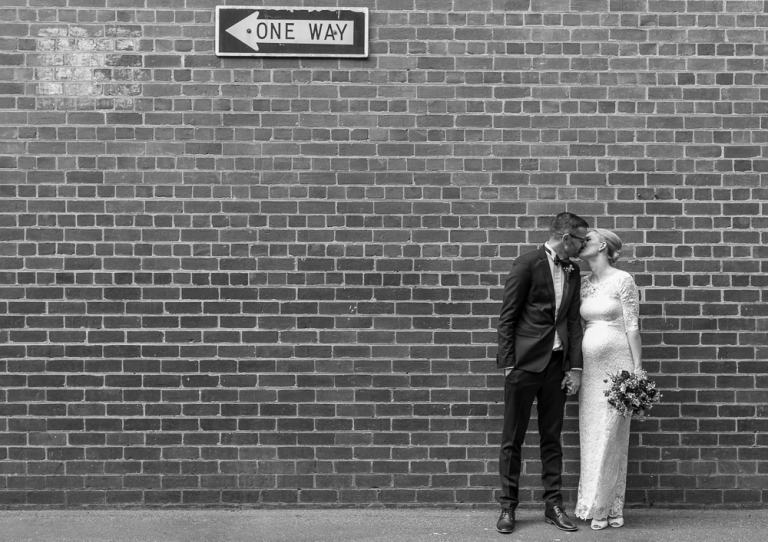 If you're getting married soon – last minute or otherwise, I'd love to have a chat with you about what you have planned. I love a casual wander through the city for wedding photos so if that might also be up your alley then please do pick up the phone or drop me a line here.